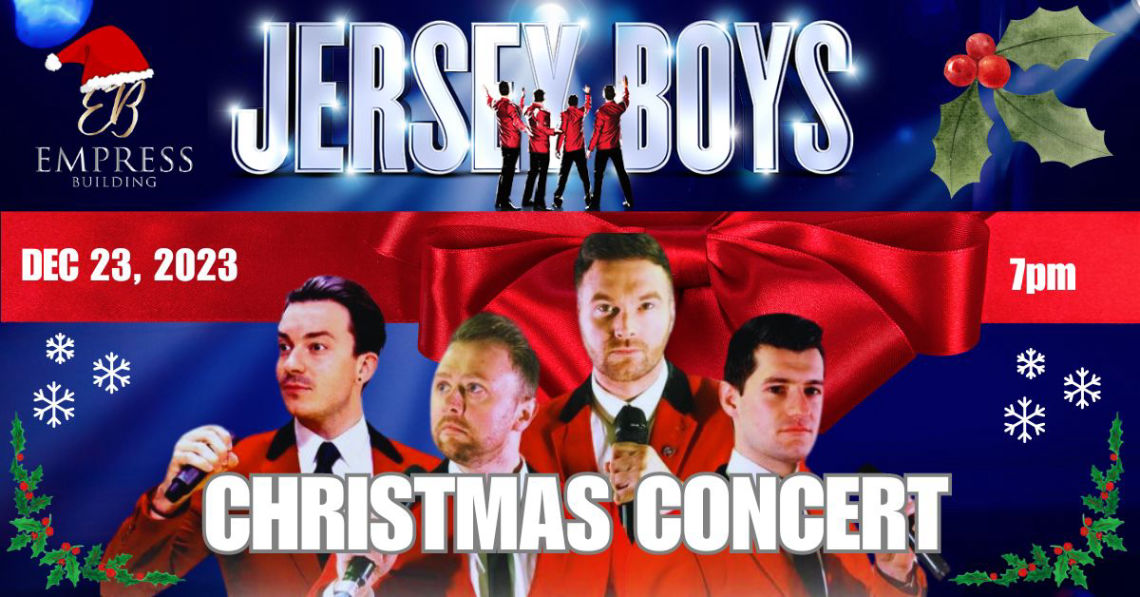 The Jersey Boys Ballroom Concert
Saturday, December 23, 2023 
INTERNATIONALLY LEADING TRIBUTE BAND
Frankie Valli and the Four Seasons
Experience the unforgettable sound of Frankie Valli & The Four Seasons with The Jerseys in an extraordinary tribute performance. Prepare to be amazed by their incredible falsettos, captivating acapellas, and an extensive repertoire of hits including "Sherry," "Walk Like A Man," "My Eyes Adored You," "Grease," "Rag Doll," "Stay," "Let's Hang On," "Big Girls Don't Cry," and the timeless favourite "Oh What A Night."
The Jerseys have astounded audiences across the UK, from performing for Her Majesty the Queen on The Long Walk, Windsor Castle, during her 90th birthday celebrations, to mesmerising crowds at The Paris Casino in Las Vegas. This talented group knows how to put on a show.
Join us for a night of non-stop hits, laughter, and more as The Jerseys bring the magic of Frankie Valli & The Four Seasons to life. This all-singing, all-dancing extravaganza features a LIVE 4-piece band of exceptional musicians, guaranteeing an unforgettable evening that will have you dancing in the aisles and begging for an encore!
Don't miss this remarkable tribute to one of the most iconic music groups of all time. Secure your tickets now and prepare to be transported back in time to an era of timeless music and unforgettable memories.
Immerse yourself in the breathtaking setting of the historic Empress Ballroom, renowned for hosting legendary live performances. Elevating your experience, the venue features a state-of-the-art surround sound system operated by professional engineers, ensuring every note, riff, and lyric resonates with crystal clarity. Enhanced by dazzling visual lighting effects, the atmosphere will immerse you in the sounds and emotions of the music. For the ultimate tribute to one of the greatest bands of all time, there's no better place to be than a live concert at the Empress Ballroom. Grab your tickets now!
Please note that for the best seating areas, it is advisable to arrive early for the Arrival and Drinks Reception. Alternatively, ample standing areas are available for this event. 
PARTY BOOKINGS
When you reserve a table for 10 or more, we will trim the table for FREE. 
Call or message us at 01709 803974. Don't wait, book your celebration at The Empress Building today! For more information on party bookings, click here.
 
EVENING ITINERARY
19:00 Arrival, Drinks Reception, Early arrival is recommended for best seating, if you prefer standing, there are poser tables at the rear.
19:00 The evolution of pre-party music over the decades
20:00 Jersey Boys live on stage
20:45 DJ Evans' energising music for the dance floor
21:00 Photo Memorabilia Opportunity during the Interval
21:45 Prizes for forthcoming concert attractions
22:00 Jersey Boys live on stage
22:45 Late-night after party with DJ Evans, groove to decade-spinning classics
00:00 Carriages at midnight  
 FREQUENTLY ASKED QUESTIONS
We have created a frequently asked questions webpage if you are unfamiliar with visiting the Empress Building, click here.  
Optional pizza, traditional pie & peas supper
Under-18s must be accompanied by a responsible adult
Dress Code: Smart / Casual
After purchasing a ticket online, check your spam folder and email inbox for an e-ticket. Print it out or present it on your mobile device at the door to gain entry. 
Because we use SOTpay for ticketing, there are NO Booking Fees 
SECURE YOUR SPOT NOW!
Entry Ticket: £9.99
Table of 10 Special: £89.99 saving £10
Don't miss out on this fantastic show!